Paris, city of love. Almost all the newly married couples would have considered this as their honeymoon destination. How much actually makes it? Well, that's another controversy to fight for! But this city owns an astonishingly rich history full of incredibly famous monuments in Paris. No wonder, Paris is the most visited capital of France since they have lots of Historical Monuments in Paris, it is often a struggle to decide from where to start and which route will be the best to cover majorly popular historical monuments to visit Paris?. Therefore, here's an articulated list of top 12  monuments to explore in Paris that provide you, an easy guide to cover up all the gems of Paris with no trouble in understanding their significance and credibility. By far you might have imagined the famous epitome of love-the Eiffel tower from every angle in your imagination. So, let's start with the Eiffel Tower, the most famous monument in Paris.
The Most Visited Monument in Paris
1. Eiffel Tower
This breathtaking structure was constructed in 1989 and usually, people discuss that it's named after its architect Gustave Eiffel. But that is a completely wrong assumption because there were two engineers who delivered the idea and design of Eiffel Tower and since they worked under Gustave Eiffel, so just like a 'true boss' he took all of their credits and named it as Eiffel Tower. Initially, this top monument in Paris was going to be decimated within 20 years after its construction as Parisians declared it as a useless and monstrous building with no use. Gustave used it as a Radio Antenna to send and receive wireless messages from the French Military that can sustain it for longer durations and here we are still standing as a symbol of love for tonnes of couples all around the globe. Over 250 million people have visited the Eiffel Tower to remake it as one of the most visited monuments of Paris won't be wrong at all. It might be very mind-boggling for you but it is illegal to take photographs at night in Eiffel tower without prior permission from the Société d'Exploitation de la Tour Eiffel(trust me it is!).
Given below is a graph to show you the humongous fame of Eiffel Tower depicting the rate of visitors in Eiffel Tower every year.
Over 250 million people have visited the Eiffel Tower
It is the most visited monuments of Paris.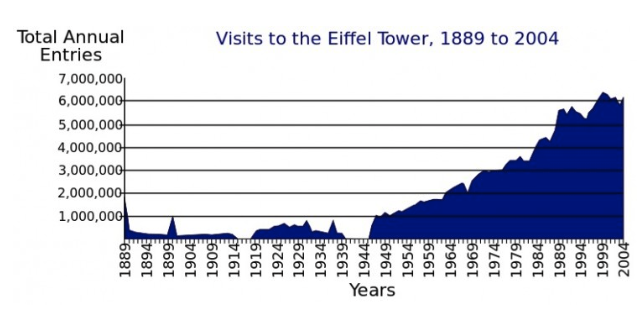 Here we are showing you the graph which shows the rate of visitors to the Eiffel Tower- I must tell you that it is illegal to take photographs at night.
Read More: Top Tourist Attractions in Paris
2. Arc de Triomphe
This is structured like an India Gate which also owns, somewhat similar history for its construction. Arc de Triomphe honoured memorabilia for those who fought and died in the French Revolution especially dedicated to Napoleon I. You will find the names of martyrs written at the surface of the Arc de Triomphe who bravely fought in the revolution. This historical monument in Paris to visit is also a representation during the times when Britishers displayed their victories with the construction of distinct monuments. This looming building is about 164 feet above from the bustling traffic circle at the head of the Avenue des ​Champs-Elysées. Visitors can enjoy the nice view of Paris from the top of the monument.
3. Palace of Versailles
This was the principal royal residence of France from 1682, under Louis XIV until the troubling world war and french revolution hit the royalties very hard. You can clearly experience the royal, luxurious living of Kings and Queens which even lead to its listing as a UNESCO world heritage site for that is great achievements in itself. This monument to visit in Paris became the museum by the order of "King Louis" in 1837 as well. The rooms of the palaces were then converted into the form of the museum by having the collection of paintings and sculptures of great figures which continuously expanded until the 20th century. There are a lot more incredible buildings to explore such as The ceremonial Hall of Mirrors, jewel-like Eiffel Tower, and the Royal apartments.
Also Read: Visiting Paris in Two Days
4. Notre-Dame Cathedral
Notre-Dame Cathedral must be on top of the list of monuments to visit in Paris, France. As, this controversial building went through a lotto sustain its structure even after a terrible fire that broke out on April 15, 2019, and destroyed a large portion of the cathedral, including the iconic spire known as "la fléche" ("arrow") and the roof made of 800-year-old lumber known as "The Forest." If you are interested in visiting the historical monuments then you can visit its nearby areas as the main zone is restricted for ongoing restorations. French President Emmanuel Macron believes the restorations could be completed by 2024. This is still a very great exemplar of the Gothic architectural building with intricate details which took workers more than a century to complete the monument.
5. The Basilica of the Sacré-Coeur
The Basilica of the Sacré-Coeur also known as Basilica of the Sacred Heart of Paris is one of the best monuments to visit in Paris. It is assumed that approximately 11 and a half million visitors visit this monument every year, which is the 2nd most visited place in Paris after Notre-Dame Cathedral. This monument is dedicated to the Sacred Heart of Jesus, and its location is set over the summit of the Eiffel Tower Montmartre, which is the highest point in the city. Therefore, be ready to click the best panorama pictures from this famous landmark in Paris
There are some elements of the basilica which you must not avoid.
The Dome

The Heart Mosaic

The Great Organ

The Savoyard

The Crypt

The Dome  




Just be sure to watch over the stair as there are around 300 steps to reach the main altar as there are no elevators yet. You must not leave without exploring The Heart Mosaic which is the largest Mosaic in France, it is the centerpiece of the basilica, that took over 4 years to complete in 1922.
Get: A Complete Guide To Visiting Paris In Winter
6. Wall of Love
After the great surge of the reputation of Paris in the romantic tour sites, you can actually feel what 'love is in the air' actually means! As in Paris offers love in the walls as well. Wall of Love is actually a love-themed wall of around 40 square meters long. This is the most visited monument in Paris that is situated in the garden square in Montmartre, Paris. So the tale behind its construction goes like this: 'One day Frederic Baron asked his brother and neighbors to explain "LOVE" in their own languages. And he collected 300 different words for "I Love You" to create this themed wall by writing those words for love over it. There are also some red splashes on the wall which symbolizes the parts of a broken heart as it's not always a happy ending after all.
7. Flame of Liberty
This is one of the best replicas of historical monuments to visit in Paris. This monument comprises a golden leaf replica from the flame of the torch of the Statue of Liberty in America.  It is approximately 3.5 meters in height. The Flame of Liberty became an unofficial memorial for Diana princess. This is a sculpture of a flame, executed in gilded copper, supported by a pedestal of grey-and-black marble that has been offered to Paris in 1989 by the International Herald Tribune.
8. Panthéon
This is not what you expect from the famous Pantheon of Rome. This famous building in Paris was originally built as a church dedicated to St. Genevieve. This is also famous for being a graveyard of the most legendary French Citizens of all times. This building was dedicated to greek god and its original age is unknown to everyone. This is known that by the time the construction of this top monument in Paris was finished, the French Revolution had started, therefore the National Constituent Assembly voted in 1791 to transform this church into a mausoleum for the remains of distinguished French citizens.




9. July Column
This monument is one of the most extraordinary buildings that commemorate the Fall of the Bastille, in entire France. This structure had been envisaged in 1792. You must not miss out on this famous historical monument in Paris. This monumental column in Paris is composed of twenty-one cast bronze drums, weightening around 74,000 kilograms and 47 meters in height. 
Read: Historical Facts About Paris
10. Les Invalides
This monument is one of the weirdest buildings that owns the title for being closest to military people for being their base during the times of war and also accounts for having a museum and monuments as well as a hospital and a retirement home inside its premises. This famous building in Paris was known as Hotel national des Invalides, in the which opening hour are as described below: 
1 April to 31 October: Monday to Sunday, from 10 am to 6 pm

1 November to 31 March: Monday to Sunday, from 10 am to 5 pm
11. Conciergerie
This is one of the most creepy places to visit in Paris. If you are bored from the excess love and romanticism being filled in every landmark try this top historical monument in Paris you will be definitely thrilled. Conciergerie is a building in Paris, which was initially a prison but presently it's used mostly for law courts. It was part of the former royal palace. This whole building was built during the 14th century and is an example of early Gothic architecture just like the cathedral. The structure was constructed by the order of King Louis IX and Philip IV.
12. Grande Arche
This monument in Paris to visit was under months of renovation, but it will be open after the pandemic closure for the public exploration. It is an important, modern architectural landmark in Paris that you must explore once. There are many things to see and do at the Grande Arche, which is located in the heart of Paris. The Grande Arche was inaugurated on July 14, 1989, and it is usually known as the Arche de la Défense or simply as La Grande Arche.
Don't Miss
Here we have provided detailed knowledge regarding the famous monuments of Paris, if you are planning your trip to visit Paris then please go through our above-mentioned list of top12 monuments in Paris. For more info, you can head onto our other blogs where you can get all the essential information required during a trip to Paris like the best hotel, restaurants, and places to visit. If you liked our post please like it, comment in the below section and don't forget to share it with your friends.
The post Historical Monuments of Paris-The Most Visited Monument in Paris appeared first on World Tour & Travel Guide, Get Travel Tips, Information, Discover Travel Destination | Adequate Travel.