Synopsis: Keem Bay is recognized as the best place for wild swimming in the UK and Ireland region by 'Ocean Bottle'. According to the company, Keem's waters scored a perfect 20 for cleanliness (a count of 10 bacteria per 100 milliliters of sampled water), and its visitors gave the beach an average rating of 4.9 across 1,683 reviews.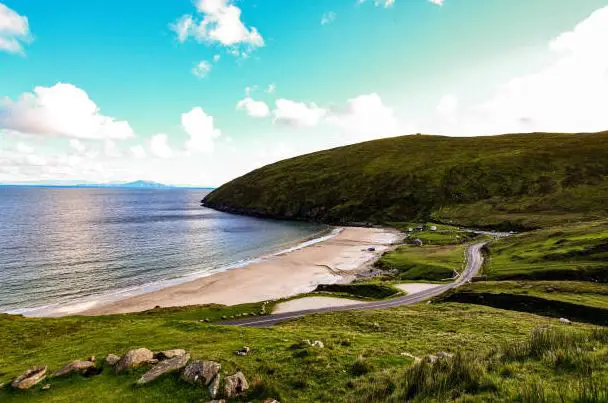 Keem bay, the famous Irish island is recognized as the best place in the UK and Ireland region for wild swimming. Wild swimming is one of the best things to do in the United Kingdom, and a UK-based reusable bottle company, Ocean Bottle, lists Keem Bay on the top for this activity.
Keem Bay: The beach at Keem Bay is located in County Sligo, Ireland. It is a beautiful sandy beach with clear waters and lots of rocks for children to play on. There are many different activities that people can do here including surfing, fishing, boating, and swimming. The beach is open year-round and is suitable for swimmers of all ages.
Another wave of a heatwave is on the way in the UK and people are heading toward the popular swimming spots in Ireland. If you too are seeking some relaxation, then you must know about the recent survey carried out by UK-based reusable bottle company, Ocean Bottle.
According to Ocean bottle, Keem Bay on Co Mayo's Achill Island has been named the best spot in the UK and Ireland for "wild swimming." 
Ocean Bottle lists 20 wild swimming spots across the United Kingdom, six of which are located in Ireland. Apart from Keem Bay, other popular spots are Trá na Dóiln, Dog's Bay in Connemara, Dooey Beach in Co Donegal, Curracloe in Co Wexford, and Enniscrone Beach in Co Sligo, with a cleanliness score of 6, 13, 9, 12, and 14 respectively.
Referring to the results, Ocean Bottle said that they collected water samples from more than 800 waterways, including some governmental sites and the Environmental Protection Agency (EPA), to analyze the levels of E. coli and intestinal enterococci in the sourced samples. After analyzing the samples, Keem Beach has been given the Blue Flag for its exceptionally clean waters and is a lovely and picturesque spot to enjoy a swim.
The post Keem Bay becomes the best wild swimming spot in Ireland & UK appeared first on World Tour & Travel Guide, Get Travel Tips, Information, Discover Travel Destination | Adequate Travel.